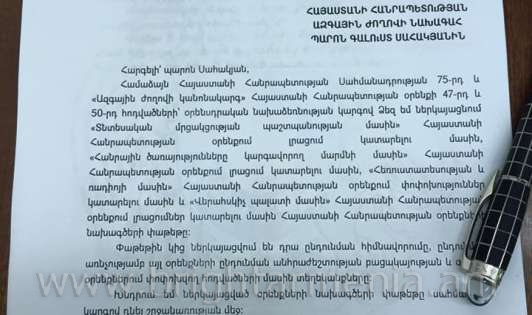 Earlier this week, Member of Parliament of RA Edmon Marukyan has put into circulation a package of drafts on the following laws: Amendments to the RA Law "About the Protection of Economic Competition"; Amendments to the RA Law "About the Public Services Regulatory Authority"; Changes to the RA Law "About the Television and Radio of the Republic of Armenia", and Amendments to the RA Law "About the Control Chamber of the Republic of Armenia".
This package has been discussed in the Council of the "Bright Armenia" Party, and this is our first anti-corruption legislative initiative. We believe that the adoption of this package will reduce the sponsorship practiced in the highest levels in the Republic of Armenia.
In particular, the aim of my proposed regulation is to ensure the political neutrality of officials in all these bodies. The problem is that a fundamental condition set for these authorities to exercise their powers impartially, should be their independence from government agencies and individual officials, business entities and persons affiliated with any of those. The fact is that the political and economic entities, and other persons occupying positions are often the same people, and when someone is simultaneously a member of any of those bodies, as well as a party member, he/she will not be able to freely exercise their powers, and here, in fact, conflicts of interest is unavoidable. In other words, it is obvious that a person cannot be impartial in all those cases when he/she should initiate administrative proceedings against any member or related parties of certain political team, register and qualify violations, apply sanctions, being a member of the same team. How can a member of any party, a board member or the president of the party, exercise his powers towards the state bodies managed by members of the same party, including ministries and other agencies and bodies, avoid conflicts of interest and be impartial.